As the creator of Pebbls, Lisia Digital is dedicated to ecological and social responsibility. It is crucial for both individuals and businesses, regardless of their size, to mitigate harm to the Earth and future generations.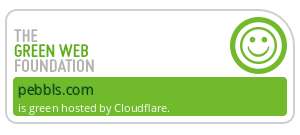 100% Renewable Energy
Lisia Digital & Pebbls is 100% powered by renewable energy. This includes our web servers (through Kualo) as well as our development and build machines – this applies whether we're working from the office, or remotely from the side of a mountain.
Social Responsibility
Lisia Digital supports the good work of a number of charities locally, nationally, and globally.
Carbon Negative
Although we strive to avoid generating CO² completely, for the few activities where this is not possible (e.g. CDN, buying equipment, telephone calls), we offset our carbon footprint through certified schemes at a rate of a few hundred percent more than what we generate.
Tree Planting
Each year we plant native broad-leaf trees around the UK and also help to protect and replant areas of rainforest in Brazil, Peru, and other places that are at risk of deforestation.
Paperless Operations
We are a paperless organization. We believe in minimizing our environmental impact by avoiding paper-based resources and working exclusively with companies that can provide digital invoicing and communications.
More Details
Click here for more details about Lisia Digital's sustainability commitment.